---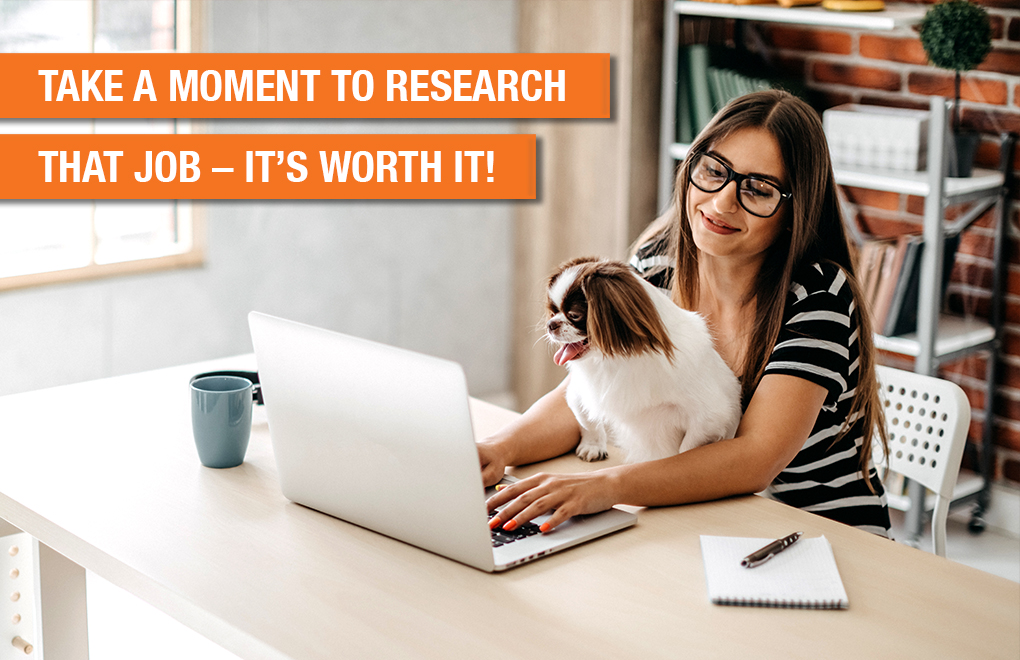 Take a moment to research that job – it's worth it!
When you're one of many job hunters, you want to stand out amongst potentially dozens of other candidates. What's one of the easiest ways to do that?
Research!
Being able to show that you understand the company, why you want to work there and what you might be able to offer is key. A bit of research helps you to write a good cover letter, answer application form questions and respond to interview questions, so it's well worth taking a few moments before you hit that APPLY button.
Research their brand
The most basic search engine query will take you to a company's home page to help you understand what the company does. If they have an 'Our Mission' or 'Our Values' page, this is worth checking out to help you see how they align with what you're looking for. From there, visit the 'Contact Us' page to find out where their office locations are and make sure that suits you. Mentioning in your application that you are excited to be part of their mission and admire their office never goes astray!
Research their HR and People Culture
Many organisations will have a 'Careers' page which is set up specifically for job seekers. This will explain their company culture, the benefits they offer and possibly show you some videos of your potential new colleagues. Venture onto LinkedIn to see the profiles of key managers and positions within the organisation. This background research will help you as you progress through the interview process and demonstrates your professionalism. (Note, for any sales role, knowing your 'target' is a must and most managers will expect you to have done this.)
Research their achievements and awards
Knowing if your potential new employer has recently done something they are proud of is helpful when it comes to building rapport.
When an employer or recruiter is scanning an application form, you have only seconds to get their attention, so why not personalise your approach to give yourself the best chance of success?
65% of applicants research a company before applying
The majority of applicants today will do their research to decide if this is a role they want to apply for. Yes, that's important, as no employer wants to waste time with an applicant who isn't motivated, but research provides other benefits for you, the job seeker.
Understanding the company you are applying for helps you to decide if you are enthusiastic about the opportunity.
Research helps you to see where you may be able to develop your skills and experience within this organisation.
Having a basic overview of available roles within a company can help you plot your career goals.
Being around others who share your values and are working towards a common purpose can lead to enhanced job satisfaction.
Research helps you put your best foot forward during the application process.
Securing your dream job can be a competitive experience. Knowing that more than half of the other candidates are likely to have done their research makes it a no-brainer for you to do the same.
Good luck! At Talent Propeller Jobs, we are here to help. Check out our resources page, where you will see everything from advice on prepping your CV to a checklist of likely interview questions.