---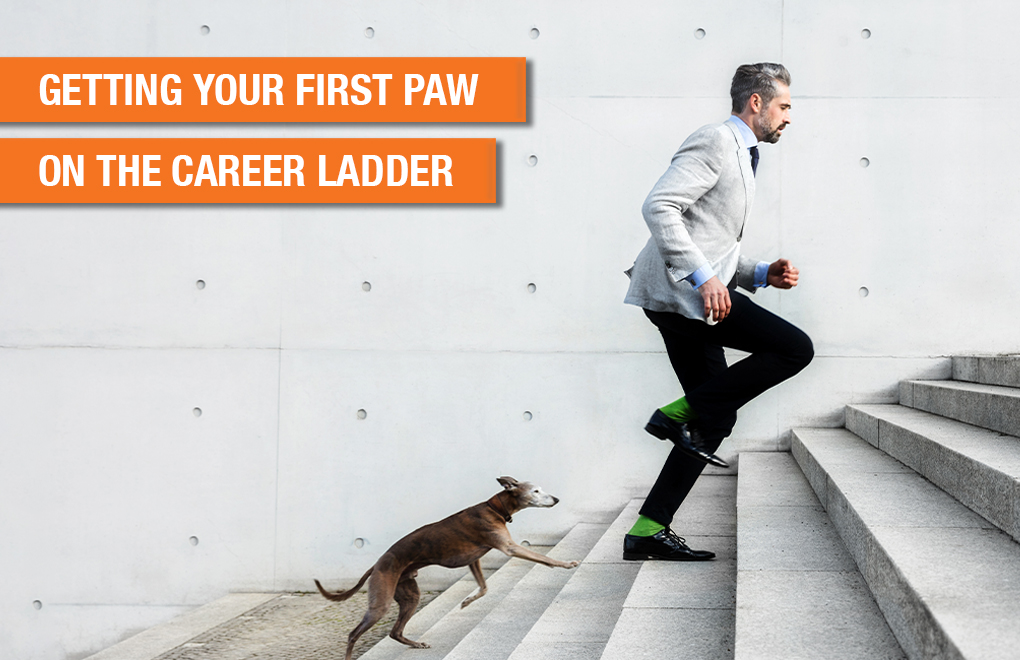 Getting your first paw on the career ladder: Your Top 3 questions answered
What is it that makes one puppy stand out from its litter of just as adorable and endearing siblings?
Or, why is it that you just click with a particular dog at your local animal shelter and find yourself with an unexpected furry companion? Just as we are drawn to our furry best friends for diverse -and at times, inexplicable- reasons, figuring out how to get your first paw on the career ladder can feel just as mysterious and baffling.
The good news is that it doesn't have to be! Unlike trying to explain the logic of why you chose one puppy over another, there is a logical explanation to your frequently asked questions about how to hunt for a job successfully: how do I stand out amongst the pack for an entry-level job without a lot of experience? If I applied before and never heard back, should I apply again? And what about the covering letter - how important is it?
In this blog, we will tackle these big questions as relates specifically to entry-level roles, graduate roles, and internships.
1. When no experience is necessary, how do hiring managers distinguish between similar candidates?

If you are applying for roles as a graduate or taking that first step into a role that's advertised as 'entry level', it's likely there are many candidates that will have the same technical skills that you do.
So, how does an employer choose between candidates at interview time?
Aside from qualifications and/or grades, one of the key things being assessed for an entry-level role is your potential within an organisation. This is done by asking about your career aspirations, areas you are particularly interested in learning more about and what you enjoy. There may also be behavioural questions to help them understand how you think.
There are no 'right' answers that cover all roles but here are some general rules.
Firstly, regardless of the role and whether the interview is on Zoom or in person, present professionally. The old adage stays true: you never get a second chance to make a good first impression.
Secondly, be yourself when answering the behavioural questions. Don't try to give answers you think they want to hear; interviewers can forgive you being nervous but not fake.
Thirdly, be clear on where you are going and show you are realistic about how you're going to get there. If you see yourself learning on the shop floor or the warehouse and then progressing to your ultimate goal of supervision, explain that. If you have an area of specialisation in mind or extra study on the horizon, then let them know. Focus and ambition are key areas where interviewers select one candidate over another.
Hot tip: Make sure that you are talking about what value you can bring to the employer not just what you want. We recommend you think about this carefully and practice your answers. Ask a trusted friend or parent for critique to ensure you are 'employer focussed' and selling the benefits of hiring you.
Lastly, be humble. Employers understand that you may have big dreams, but expressing unrealistic expectations around salary, speed of progression and job responsibility are some of the key areas where candidates come unstuck in entry level interviews. Phrases like 'I'm not interested in' or 'I don't want' should also be avoided.
More on acing job interviews.
2. This job was reposted after I was interviewed, should I apply again?

If you have been to an interview or spoken to the company about your first application and not had a response, YES, we believe it is appropriate to follow up and ask for an update. You can mention you haven't heard anything and have seen the role advertised again so wondered if you should reapply.
When it's not recommended to reapply would be:
If you didn't attend an interview appointment or didn't respond to a call back message last time. You will possibly be blacklisted for lack of response and your application automatically rejected.
If the advert states that previous applicants need not reapply. This is a blanket way of saying that you were unsuccessful last time so best not to waste your time again. Move onto a new opportunity.
More on following up on your job application
3. Do you have tips for a cover letter when I have no experience in the field?

If you are one of many people looking for a career in an area where you have no specific professional experience, it's a bit trickier to stand out.
We suggest you start by highlighting your relevant qualifications or licenses. A law degree is helpful for any role in the legal field and Trade Certificate as a Mechanic immediately gives you credibility for any role requiring mechanical aptitude.
When it comes to transferable skills, rather than listing generic ones like time management, verbal communication etc, you will make a stronger case if you focus on the exact soft skills they have asked for in the advert and give some succinct examples to back up your claims. For example:
"Expert Problem Solving: Responsible for resolving customer delivery complaints: 99% success rate".
Recruiters are screening resumes quickly: one of the biggest challenges is getting their attention. Refresh your resume for each application and ensure they will find the words and phrases they are looking for (ie: those in the ad or position description). Listing a page of irrelevant certifications and things not required in this role will quickly see you overlooked if you are also missing a solid industry track record.
More on getting shortlisted, getting a job with no experience
Good luck!